St James Aston is open daily from 10am – 5pm
Address: Cote Road, Aston, OX18 2DU
Accessibility, Facilities, and Parking: Please visit our dedicated accessibility page here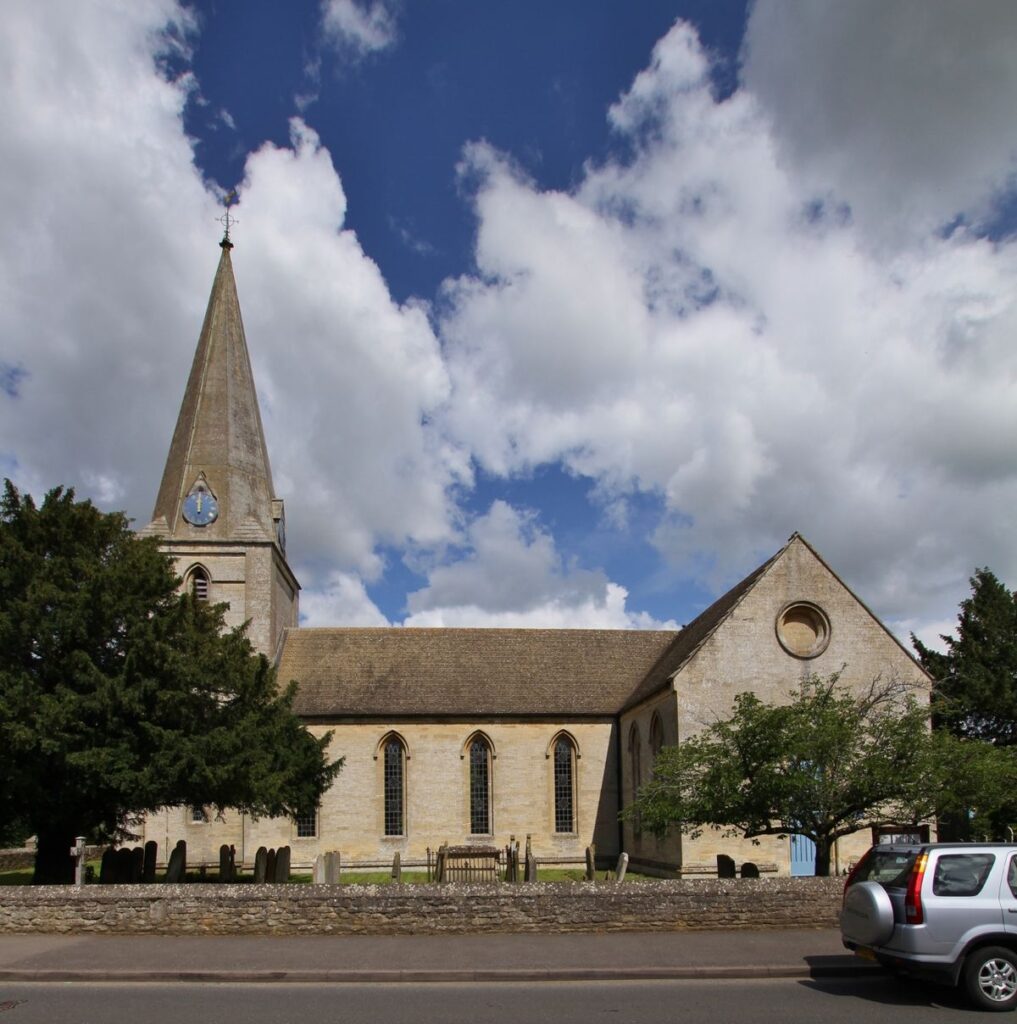 St James Photo Gallery: Click here
Church & Congregation
St James is a Grade II listed church built in 1838 and funded by private subscription and from funds invested by the then vicar of Bampton. The church was consecrated as a chapel of ease with a burial ground in 1839, becoming, in 1857, the parish church for Bampton Aston, including Aston, Cote and the parochial chapelry of Shifford, until it became part of Bampton with Clanfield in 1976.
The organ dates from 1896 and was electrified in 1949. The north transept is used as a vestry and, since 2013, has included a kitchenette and toilets. The church can accommodate a congregation of about 200. The present ring of six bells were restored and re-hung in 1992 by White's of Appleton following two years of local fund-raising. Other activities include a prayer house group, soup and roll lunches for the elderly, a stall at the village fete, a harvest supper, a summer afternoon tea, Ride and Stride for the Historic Churches Trust, a Christmas sale, a Christmas concert, carol singing in the Square, fund raising events and support for charities (Besom Food Bank, Embrace, Church Army, Children's Society, and Royal British Legion). There is a mixture of services such as Holy Communion and lay-led family services which are more informal although set to a light traditional structure in which there is plenty of flexibility. After each of these services there is a social time with refreshments. It is also a time for talk and to discuss any problems. 
Churchwardens
John Ordish & Chris Holt
Location & History
Aston is located about a mile and half east of Bampton on the B4449 to Standlake and about 4 miles (6.4 km) south of Witney in West Oxfordshire, England.
There is Iron Age and also Romano British archaeology near the village, but the first documented mention of Aston comes in a charter of 958. The origin of the name Aston is East Tun, meaning a settlement east of Bampton.
Until the 19th century Aston was a township in the ancient parish of Bampton. In 1866 the civil parish of Aston and Cote was separated from Bampton. Following mergers with Chimney and Shifford in 1931 and 1954, the parish was later renamed Aston, Cote, Shifford and Chimney. The southern boundary of the civil parish is the River Thames and includes Chimney Meadows National Nature Reserve.
In 2011, the population of the civil parish was 1,375 in 545 households. The proportions of residents of working age, children and retired are similar to the rest of Oxfordshire and England as a whole. Several new and projected housing developments in Aston will cause the population to increase. The civil parish is relatively prosperous, with less than 6 per cent of the working age residents receiving benefits in 2012 (compared with 14 % for England). There is a shortage of affordable accommodation for the young in the civil parish, which is likely to change with the construction of affordable and shared ownership schemes houses in new developments currently at the planning stage.
With a recently reduced bus service and no buses after the early evening or on Sundays, car ownership is high, and in many cases a car is necessary to go to work. There are only two large employers: Aston Pottery and P D Hook Hatcheries Ltd. Other employers include the primary school (detailed earlier), garage, village shop and pub. There is also Aston Works which is a very small business area in Back Lane where a number of small businesses are based. Other amenities include a mobile post office three days a week in the Aston Community Church (formerly known as the Baptist Fellowship Centre), a Recreation Ground and a modern village hall.
The parish has an active social life with activities such as: ACTS (Aston and Cote Thespian Society), allotments, a badminton club, a ladies choir, Brownies, a football club, a history group, a community minibus, toddler Group, pre-school, village magazine, WI and Chillax youth club (run by Aston and Cote Community Church). More details can be found at http://www.astonoxon.com/